Plushies are fun and cool animals you can get from a claw machine. You can trade these plushies and put them in your den.
Rare Plushies
Rare Plushies are special because they have additional features than normal plushies. Plushies can be found in
the claw
machines. Normal plushies are plain and in different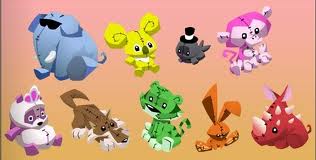 colors but don't have special accessories such as a top hat, extra spikes, and long tusks. Some special plushies are:
Normal Plushies (normal plushies come in all colours)
Koala
Tiger
Panda
Elephant
Rhino
Bunny
Seal
Wolf
Deer
Eagle
Crocodile
Snow Leopard
Artic Wolf
Raccoon
Kangaroo
Lion
Horse
Giraffe
Fox
Penguin
Giant Plushies
Giant Snow Leopard Plushie
Giant Arctic Wolf Plushie
Giant Lizard Plushie
Giant Kangaroo Plushie
Giant Lion Plushie
Giant Wolf Plushie
Ad blocker interference detected!
Wikia is a free-to-use site that makes money from advertising. We have a modified experience for viewers using ad blockers

Wikia is not accessible if you've made further modifications. Remove the custom ad blocker rule(s) and the page will load as expected.