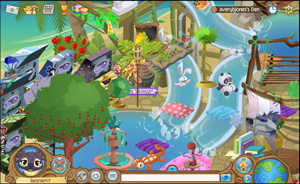 Dens are the players house or home. Dens are places where people hang out, party or relax. They can be edited using items in the inventory. There are many types of dens in
Jamma
. However, only
members
can purchase another den.
Current Dens
There are a vareity of dens avaible to members in Jamma below is the list:
Castle(6,000 gems): A large den with three floors. Perfect storing all of your days worth of gems.
Small House(2,000 gems if bought again): The starter den. Everyplayer starts off with this one den. Contains only one floor.
Princess Castle(6,000 gems): This den is the female version of the castle den. it has a total of three floors.
Waterpark(4,000 Gems): The most popular den, it has a total of three small floors. It is also so far the only den to contian water slides from Crystal Sands.
Volcanoe(3,000 gems): A perfect den for new members. It has two floors and a long pathway to the upper level of the volcanoe.
Treehouse(4,000 gems): The tree house is a very large den with three floors. It contains a large front yard and lots of space.
Huanted Mansion(6,500 gems Day of The Phantoms only); A special den, it is a limited time only den availible only on the Day of The Phantoms it has a total ofthree floors with many rooms.
Ad blocker interference detected!
Wikia is a free-to-use site that makes money from advertising. We have a modified experience for viewers using ad blockers

Wikia is not accessible if you've made further modifications. Remove the custom ad blocker rule(s) and the page will load as expected.