The Medical Center (Centre) is a place in Animal Jam. It is like a hospital. There is a Shop there where you can buy: plasters, head cone, bandage; doctor bag and much more. Most of the items are for Members.
It was replaced with the
Pillow Room
in 2011, but now no longer in Animal Jam.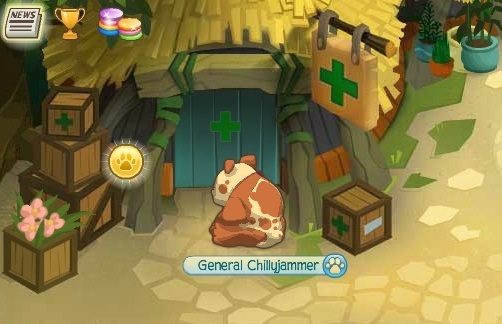 The medical center was removed, then placed back in Jamaa. The medical center is in Kimbara. Please post how to get there. In 2016 AJHQ took out the medical center in Kimbara, and turned it into Gabby's Animal Hospital.
Features
It has stairs leading to another floor. There is several corner chairs where the visitors can sit down and wait. Then there is one hospital bed, where the Jammer (s) can lie down on. There is also several posters around the room. There is a sink and many cabinets which is not like a kitchen at ALL.-kitchen.
Trivia
--------------------
Most items available are for members, along with the formerly sold Doctor's Bag.
Gallery