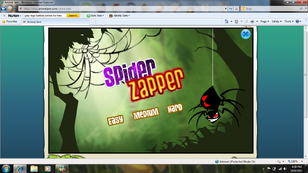 Spider Zapper is a minigame for Jammers to play. The objective of the game is to shoot all spiders that come out on the screen and zap the exact or more of the amount spiders to zap. You can play independently, or with another Jammer or friend as you co-operate to zap spiders. You can earn
gems
from this game, mainly the amount of gems depending on how many spiders you've zapped.
Ad blocker interference detected!
Wikia is a free-to-use site that makes money from advertising. We have a modified experience for viewers using ad blockers

Wikia is not accessible if you've made further modifications. Remove the custom ad blocker rule(s) and the page will load as expected.