Hello, Jamming Blogs haven't been written in a while. So I'll today write a blog! Today, the Jamming Blog's topic's........
What do you think about Diamonds? What do you think? Do you think it should be earned more often? Do you think there should be free ways of getting diamonds? Do you wish diamonds were available for non members too?, e.g.
I think diamonds should be earned more often. You can rarely get them in the Daily Spin, I got 3 diamonds from it. I think there should be more free ways, though. Now.....
TIME TO INTRODUCE YOUR DIAMONDY OPINION!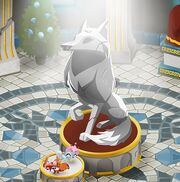 leave a comment.......

BELOW
Ad blocker interference detected!
Wikia is a free-to-use site that makes money from advertising. We have a modified experience for viewers using ad blockers

Wikia is not accessible if you've made further modifications. Remove the custom ad blocker rule(s) and the page will load as expected.